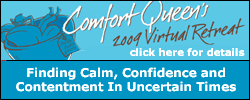 Looking to find calm, comfort and confidence in these uncertain times?
Join 10 fantastic teachers – like Barbara Sher, Michael Neill, Geneen Roth, Steve Chandler- at the "Comfort Queen's" 2009 Virtual Retreat January 16th-19th.
Your host Jennifer Louden delivers a "true retreat" experience to enhance your well-being while teaching you ways to thrive during these sometimes scary times.
Call in live or download over a dozen powerful retreat sessions at your convenience and get the soul-nourishing support you need to make this year "your" year. Click here for more details.